Best Practices – Going beyond discounts
My inbox has been overwhelmed this past week with a barrage of emails about discounted wine.  While this is a crisis situation and everyone appreciates getting a discount, this cannot be your whole strategy.  Don't miss this opportunity to create a meaningful, longterm bond between you and your customers.
Let me tell you why I will buy from Best Buy long after this crisis is over.  Their note below spoke to me.  It shows they are addressing fears.  They are going above and beyond as a company to show their commitment to customers and their employees.  They reaffirmed that they have a plan to get through this. This is who I want to be doing business with.  They have covered every concern a consumer might have about buying from them.  How they are treating their employees makes me want to shop with them regardless of an offer.  (see below for the email)
Another email I received last week was from Langaround Wine Tours in Piedmonte.  The email was a personal note from the owner that he is okay, the region is okay and will be ready to welcome us back soon.  He adds that he has opened a new wine store should we want to order anything. (see below for the email)
While it is fine to discount your wines once or twice, making this your strategy ultimately devalues your product, trains your customers to buy on discounts, and even worse, misses the opportunity you have to show empathy and commitment in the most emotionally challenging time your customers have probably ever faced.   People are listening right now and glued to emails and social media.   You should be thinking about how your brand can connect, enrich people's lives and help them feel calm.
I am not a psychologist, but when people are in an emotional state they respond differently.  Things that stand out and connect will get remembered.  A constant barrage of discounting offers will get annoying.   Here are some alternatives to the discounting strategies.
Winery "drive through":  While everyone is on a severe lockdown this might not be immediately possible, but once things open up again you could invite customers living in close proximity to your winery to a "drive through" event or opportunity.  Email or make a phone call to customers living in close proximity to your winery.  Let them know you have a drive through opportunity should they call ahead.  You will put the case in their trunk, and they will be quickly and easily stocked up without going into the winery.
Simple email from principal:  Emails should show genuine concern but not create panic.  You hope they and their families are okay during the crisis.  You are okay and look forward to welcoming them back once the crisis is over.  You appreciate their business.  No sales pitch or discount offer.  Remember you are in the business of building relationships, NOT a quick sale.
Email with useful (or entertaining) info:  Fat Cork, the Champagne club I belong to, sent out a list of French movies.  See the email below.  Obviously their customer list is full of Francophiles that will be thrilled to get that kind of content.  What makes sense for your brand, and the interests of your customers?   You could do this with a Spotify playlist, other genres of movies, inspirational videos etc. 
Gift with purchase: Online Classes
This is a collaboration opportunity for your brand to partner with another company, where no discount would be needed.   The class should be thoughtfully selected and speak directly to your brand. *** Make a call to the company to see if they will partner with you and provide the first month on a complimentary basis.  Everyone is looking for new customers and the cost of acquisition is high.  If you get creative this does not have to cost you to do it.  Examples below.
One month membership to an online yoga or meditation class or app. (Check out Glo, Headspace, Calm)

One month membership for language classes; i.e: French, Italian, Spanish, etc. This might make sense you are selling international wines or if your brand has a connection to another country/culture.  Duolingo is a popular app which has an upgrade feature. 

Masterclass.com: This is a $15 membership and features classes from the world's most talented people:  Gordon Ramsey, Anna Wintour, Annie Lebowitz etc.  Could you pay for the first month?

Online cooking classes:  There are many people learning to cook right now for the first time!

Netflix: Everybody's on it.  Can you work with them to provide a discount code for a month?
Wine club shipment inclusions:
Care package: Any self-care items could be included. e: packet of artisan teas, journal, handsoap.

Recipe cards: Comfort foods that pair with your wines

Entertainment: Games, pack of cards, puzzles, coloring-in pens & book (could be custom to your brand.  Yes, adults do coloring in!)

Notepad featuring bucket list: This is a note pad you would get printed that could be for a travel bucket list (planning and dreaming for after this is over). Handwrite Napa/Sonoma or your location on the top of the list!

To go menus: Add five or so to go menus into the shipment.  You would need to take a geographic approach here and for example include local menus in shipments for customers living in a specific city. Menus should offer items that go with your wines.  These could be your accounts or not.  The restaurants may want to include an added value item just for being your customer.
In last week's post I talked about offering online events and video tastings. Can you partner with a local chef to do a cooking class on Zoom?
Varied communication strategy | customer segmentation
To take your comms strategy to the next level you would want to have the ability of splitting your customer list into subsets based on specific things.  To do this you would either have to know your customers well or have collected info on them in the past.  Create gifts with purchase or inclusions that are specific to their likes/interests.  This will go a long way in building a relationship.  Subsets can be families, couples, pet owners, collectors. It can be based on spend, longevity, geography.  There are so many ways to slice and dice your list to tailor your communications.  People want to feel special.  The more you can tailor your communications and add value, the stronger this relationship with be.  Just like in a romantic relationship you have to continually "date" the customer.  It is not always a sales pitch.
What can you do that will make your customers remember you long after this is over?  
Sugarfly is offering complimentary 1 hour consultations on Zoom during this crisis.  Email me to schedule your time slot now.  We are here to support the wine industry globally.  In your consultation we can discuss your specific business goals, marketing, sales and how to bounce back.  [email protected]
Emails as discussed above: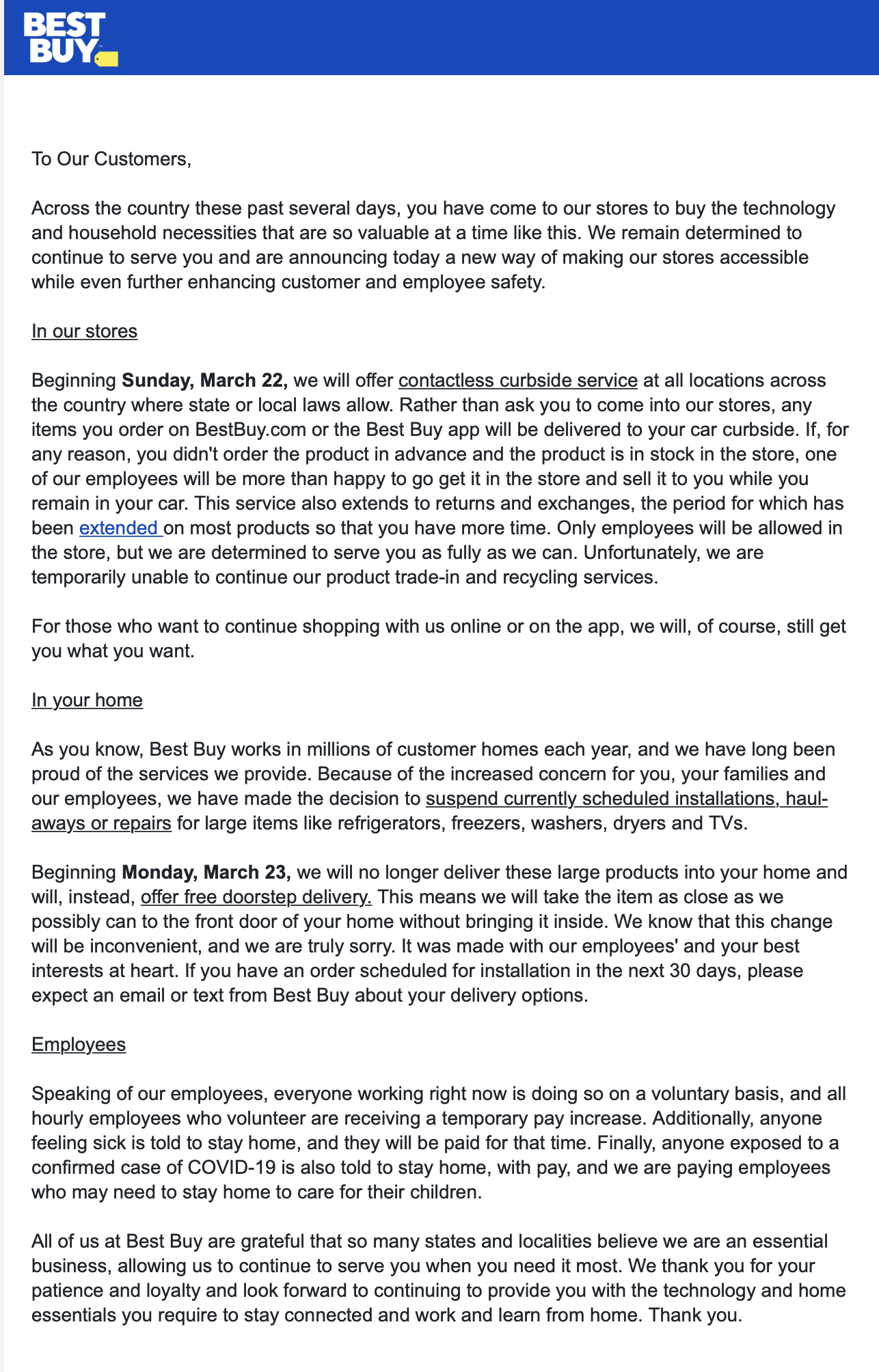 LANGAROUND WINE TOURS

FATCORK